To: Millennium Trailers, Inc.
From: Marv Beasley
Product: Enclosed Trailers
Dear Scott, Andrea, Chuck,
Just wanted to send you a note to let you know that I picked up our enclosed trailer around 4:30 PM last Friday evening. Your support in coordinating the order and delivery schedule is very much appreciated. We used the enclosed trailer to go a race Saturday night at Owosso Speedway in Michigan.
Thanks again,
Marv Beasley
To:Millennium Trailers, Inc.
From: Marc and Leanne Walker
Product: Enclosed Trailers
Hello Sharon,
First….. I would like to thank you for making this custom enclosed trailer possible. To quote one of the guys at the factory when we picked it up…. "we've never built one like this before." From the first phone call to inquire if what I had in mind was possible, to the completed enclosed trailer, it was actually an enjoyable experience that never had me doubting for a minute that I was going to get exactly what I wanted. The finished product is a show stopper. How they did that in less than two months from the time I placed the order is beyond me. We now own the most beautiful "toy hauler" in the country.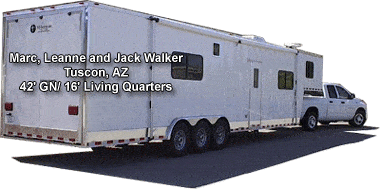 Thanks again…….. Marc and Leanne Walker Tuscon, Arizona
PS…….. Our dog Jack thanks you too. He loves his window