2 car trailers are trailers that can carry 2 cars utilizing a single tow vehicle. Generally speaking these trailers come in 3 varieties, enclosed gooseneck, open gooseneck or bumper pull stacker trailers. The 2 car stack trailer will include a lift and one car will be raised above a second. 2 car trailers also include a tie down system that will have a minimum of 6 tie down points, but often more. E-Track is a good idea if the cars you will be hauling are different sizes. A 2 car stacker trailers normally are a minimum of 24 feet and come as long as 34 feet. Enclosed goosenecks are generally a minimum of 44 feet long, but can be as long as 53 feet. Open goosenecks can range in size depending on their design. A flat bed will generally start at 44 feet long and range up to 48 feet long, while an over the cab model can be as small as 40 feet. A stacker or enclosed trailer is generally recommended due to the protection they provide from road hazards during transport. You can shop in our enclosed gooseneck section browsing our selection of 2 car trailers for sale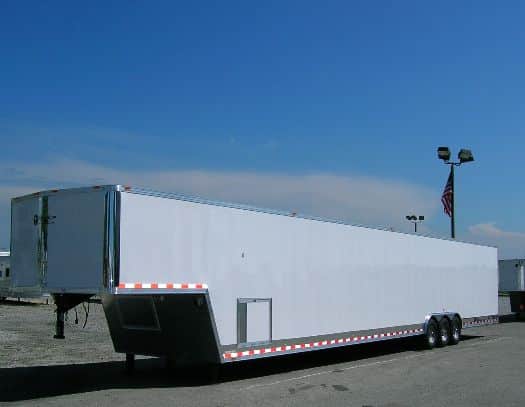 2 Car Trailer Considerations
When purchasing a car trailer that is required to haul several considerations must be made. A basic but fundamental issue is the length of the trailer.
Trailer Length
When purchasing a goose neck trailer there generally exists an eight foot area in the front of the trailer that connects to the tow vehicle. This area is generally counted in the length of the trailer and needs to be subtracted from the overall length to calculate floor length. This is to say a 48′ trailer offers 40′ of floor space. Do not make the mistake of buying a 40′ trailer and only having 32′ of floor length. A 32′ trailer is not likely to be suitable for a 2 car trailer. If you are considering stacker trailers, then a 40′ would likely allow 3 cars to be hauled.
Car Tie Down System
It will be critical to secure a car in a trailer that will be traveling at any speed. Currently two systems exist for securing cars so that they do not move during transit. The classic type of tie down is called a D-Ring. Not all D-Rings are created equal. Make sure to purchase D-Rings capable of securing your load. Most trailer manufacturers over varying weights. 4 or more D-rings are required to secure each car. Another popular option is E-Track. E-Track is secured to the floor in two or more rows and is attached with a clip system. E-Track is more flexible than D-Rings in that is allows a tie down to be placed every few inches. This is a necessity if different cars are being put in the trailer at different times. There are many other considerations that we can discuss with you. Just call 1-800-978-7223 to speak with a design specialist.