At Millennium, we offer many different ways to start designing and building trailers, please contact us using any of the following options:
Click here to DESIGN YOUR OWN TRAILER. Design your dream trailer. You will be able to select sizes, colors, options, and more. This is a great way to start the custom trailer design and build process.
Call us at 1-800-978-7223 and speak with an enclosed trailer specialist.
Click here to send an e-mail to info@milltrailers.com, give us a detailed e-mail about the types of features you are needing in your new custom trailer.
Click here to complete our ONLINE CONTACT FORM
Complete a no-obligation finance application by clicking here FINANCE APPLICATION. If you will need financing for your custom trailer, this is a great way to start the process. We will contact you before processing your application.
Custom Enclosed Trailers
Building
custom enclosed trailers with Millennium Trailers
is fast, easy and fun at Millennium Trailers. Examples of trailers we design:
Mobile Office Trailer
Cargo Trailer
Custom Car Trailers
Stacker Trailers
We are ready to help you with a custom cargo trailer anytime. We start with quality trailers and you end up with your own trailer. Our excellent customer service and easily accessible staff will serve you well. You can view our trailers for sale on our website 24 hours a day.
Custom Mobile Office Enclosed Trailer
A popular custom trailer we offer are mobile office trailers. These custom trailers design to be placed in the field and offer all the features of your office building. These trailers start our as enclosed cargo trailers and then have flooring, walls, networking and electrical systems placed throughout these custom trailers.
Give us your requirements with numbers of workstations,custom equipment locations, heating, ventilation, air conditioning, and computer equipment rack size or components. We will take your requirements are create the blueprint for a custom trailer.
Want a kitchen, refrigerator or bathroom? No problem we have you covered. If you are not going to be near electrical power add a generator to keep all your equipment running. We offer generators up to 20KW.
If you need the storage of a cargo trailer with an office we build custom trailers with offices in the front or back and the space of cargo trailers in the other part of the trailer.

Custom Cargo Trailer
We have built cargo trailers to fit just about any load with any feature available in a basic cargo trailer. Building custom cargo trailers by selecting size, height, tie down system, electrical, HVAC, and hundreds of other custom options. We even create custom aluminum trailers. We build a custom trailer to haul almost anything including boats, helicopters, air planes and anything you can put in cargo trailers. Get started on an enclosed cargo trailer today.
Custom Car Trailers
We founded Millennium Trailers building cargo trailers that can be used to haul cars. Select height, size, flooring, cabinets, electrical, lighting and more. With over 1,500 options your enclosed trailer design will be ideal for your use.
Going to the track and want to stay in your trailer? Perfect, we have partial and full cargo trailers with living quarters packages. Sofa, dinette, kitchen, microwave, bathrooms and more. It will be like you never left home in your custom enclosed cargo trailer for your race car.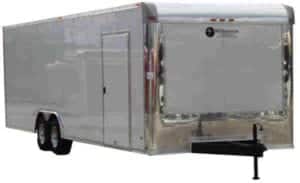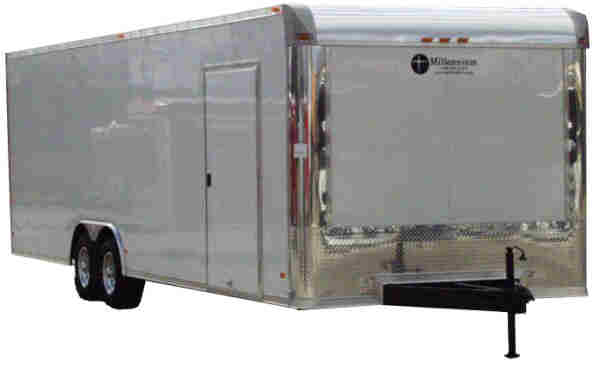 Custom Stacker Trailers
Have a perfect layout for your stacker trailer? Call us today we can make it happen. Choose your lift size, cabinet package, length, electrical and more. Want to have a place to rest or sleep in your stacker? We have partial and full living quarters packages. Design your optimal living area. Get air conditioners, furnaces and all the comforts of home. Power the stacker trailer from your RV, shore power or put a 10KW diesel generator on board.
Selecting Your Basic Features, Size, Capacity, Width
Trailer Overall Length
The best way to plan the length of cargo trailers is by drawing with pen a paper a layout of your trailer. Consider all items you want to put in, all options you want and any living quarters or anything the will occupy floor space. Add eight feet if you are going to need a gooseneck trailer. A maximum size of 36′ bumper pull and 53′ gooseneck.
Trailer Interior Height
Make sure whatever you are going to put in the trailer will fit from a height standpoint. A maximum interior height of 11'6″ is available. If you are planning on living in the trailer or working in it, consider making the height a minimum 7'6″. This makes the trailer feel much more comfortable. Do not forget to consider the ramp door opening height for loading your cargo.
Trailer Exterior Width
6 widths are offered. 4, 5, 6, 7 8 and 8.5 feet. Car trailers should be 8.5. These are dimensions of the outside of the trailer so consult with your design specialist to find out the interior width including the space between wheel wells. A custom option for a car trailer if the wheel wells are not wide enough is ramp overs. Don't forget the width of the ramp door. 96″ is the largest available opening.
Axle Size and Number
Tandem or triple. Maximum of 10,000# each axle or total of 24,000#.
Living Quarters Packages and Options
There are several packages available to suit almost every need. 12′ sofa and dinette layouts, 14′ layouts and 16′ bunk bed layouts are common. If none of the packages fit your needs we can build any living area ala carte. Consider your power needs for the living space in if shore power will be available. Built in generators in our custom cargo trailers can make the difference between a good time and a nightmare.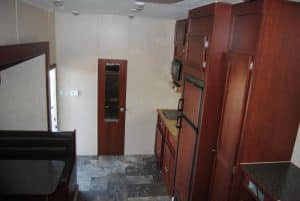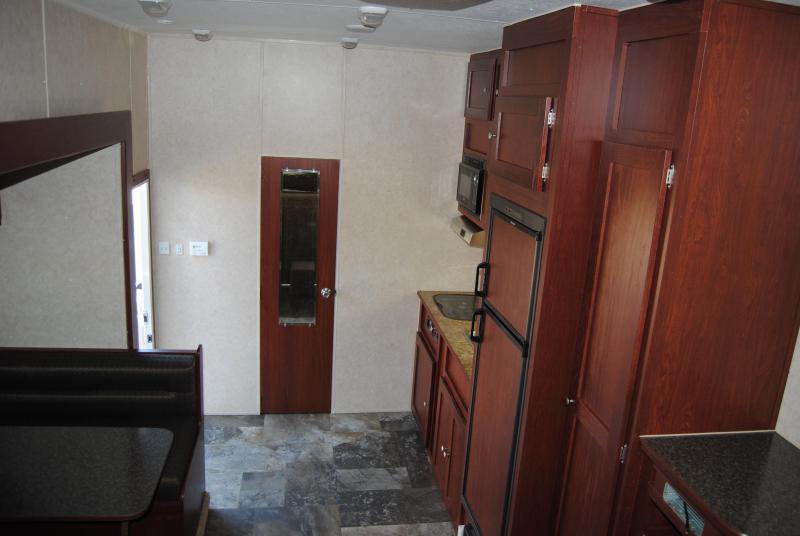 Electrical Packages
Most custom trailers will include a 110V power system. Start by selecting your amperage load of either a 30 or a 50 ampere breaker box. Custom 100 ampere are also available but are far less common. Consider your needs of 110V receptacles, lighting, switches and GFI outlets. 110V can also be made available on the outside of cargo trailers. Several packages exist to offer a broad array of electrical features.
Heating, Ventilation and Air Conditioning
Climate control in your custom trailer is a must. Consider where you may want to take your trailer and at what times of year. If you are going to any extreme conditions consider insulating the walls and ceiling of your trailer. Propane furnaces are available offering more than 35,000 BTU of heat. Roof top air conditioners are available to a maximum of 15,000 BTU. Multiple units can be added or we can install a BARD air conditioner on the front of the trailer. Simple ventilation can be added with powered roof vents on a trailer.
Other Options: Awnings, Ladders, Observation Decks
There are hundreds of other options to consider with our custom cargo trailers. Contact us and we would be happy to discuss them with you and our current trailers for sale and pricing.