To: Millennium Trailers, Inc.
From: Bill Danner
Product: Enclosed Trailers
Hi Chuck & Sharon,
Just wanted to drop you a line to say how much I like my new enclosed trailer, since my purchase in April of 2003 . It pulls great and I sure do get complements about it! Thanks for the great service before and after ! I'll be sure to pass along any would be buyers looking for enclosed trailers . Attached is a pic of myself , and my car I race. Thanks so much again .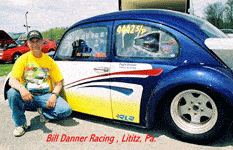 Bill Danner
To: Gregg S. Palmer
From: Terry Bolin
Product: Enclosed Trailers
Hello Sharon,
I have had the enclosed trailer out twice now. Really nice piece. Good quality and pulls better than any other enclosed trailers I have had. It was just as I ordered and glad I ordered the options like canopy & spare tire compartment. Just as before with the last enclosed trailer I ordered from you, if anyone were to ask, I would recommend ordering enclosed trailers only from Millennium Trailers.
Thanks again!
Terry Bolin
NHRA S/G430T
Neosho, MO