Cargo Trailers for Sale
At Millennium, we offer many different ways to start designing and building trailers, please contact us using any of the following options:
Click here to DESIGN YOUR OWN TRAILER. Design your dream trailer. You will be able to select sizes, colors, options, and more. This is a great way to start the custom trailer design and build process.
Call us at 1-800-978-7223 and speak with an enclosed trailer specialist.
Click here to send an e-mail to info@milltrailers.com, give us a detailed e-mail about the types of features you are needing in your new custom trailer.
Click here to complete our ONLINE CONTACT FORM
Complete a no-obligation finance application by clicking here FINANCE APPLICATION. If you will need financing for your custom trailer, this is a great way to start the process. We will contact you before processing your application.
Cargo Trailers to Haul Vehicles
If you are looking for a cargo trailer to carry cars, motorcycles, or snowmobiles you have come to the right place. Millennium Trailers has been specializing in enclosed cargo trailers since day one of our company's founding. Each type of vehicle requires specialized configurations in order to meet there specific needs.
Enclosed Cargo Trailers to Cars
The most basic need of an enclosed trailer to haul a car is a ramp. In order to load a car there must be a drop down ramp door so that the car can be loaded into the enclosed trailer. There must also be a tie down system to keep the car from moving during transit. The most common tie down system for cars are D-Rings but E-Track an also be effective loading different size cars are required. A couple other options that are nice to have are cabinets to store tools and a winch to load the car in easily and slowly.
Enclosed Trailers for Sale to Haul Motorcycles
Using an enclosed trailer to haul motorcycles also have the basic need of a ramp door, although barn doors can work as will if a separate ramp is carried in the trailer. E-Track for trailers is highly recommended when hauling motorcycles because the location of the motorcycle may vary. A wheel chock is needed to drive the frond wheel into that will keep the motorcycle stable. There are fixed wheel chocks, removeable wheel chocks and if the E-Track is laid down properly, there are also wheel chocks that can be attached the E-Track.
Enclosed Cargo Trailers for Snowmobiles
The same required ramp is needed for snowmobiles. Most often times the best option for a snowmobile is an aluminum floor. Aluminum does not warp like wood and snowmobiles will bring snow into the trailer. Aluminum is much more durable than rubber and vinyl floor coverings as well. One nice to have option for these enclosed trailers for sale is a propane furnace. Snowmobiles are most used in cold weather and a furnace can keep you warm. Make sure to insulate the walls and roof in the trailer in order to keep the heat in the trailer better.
Cargo Trailer Pictures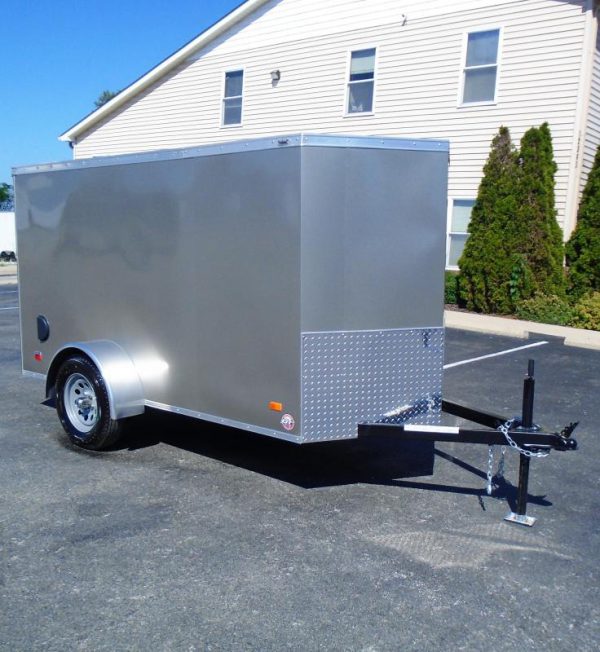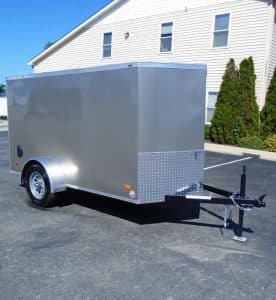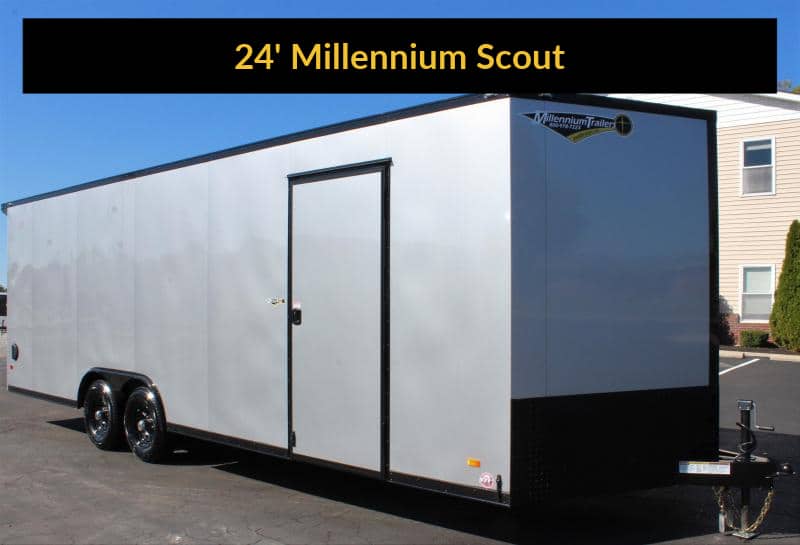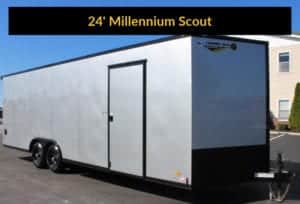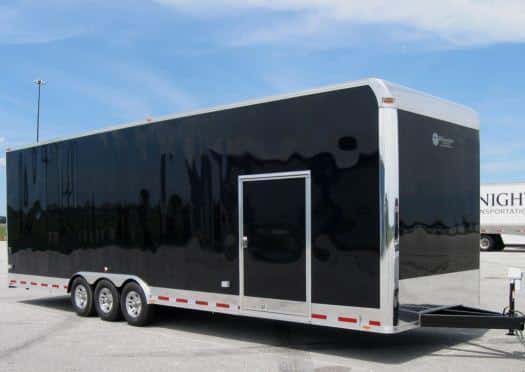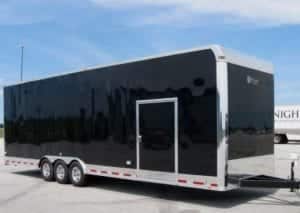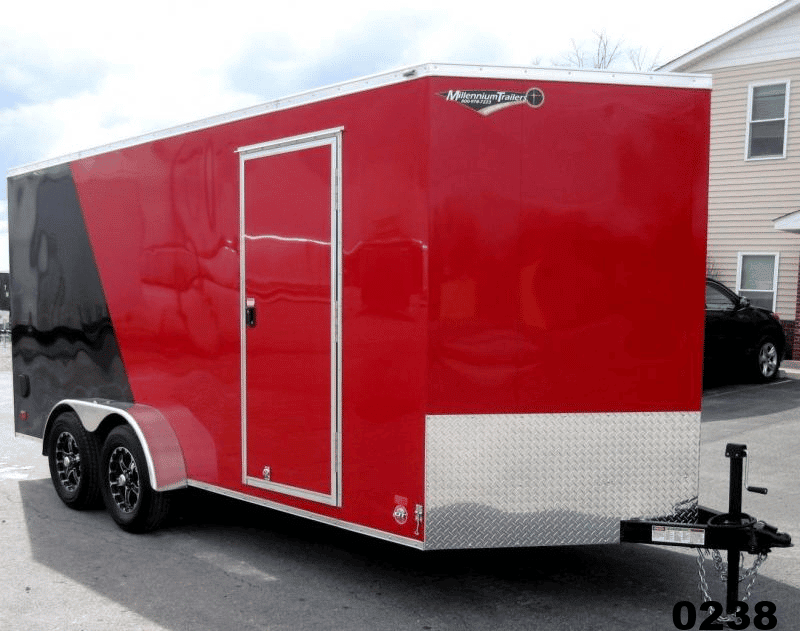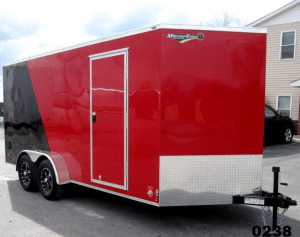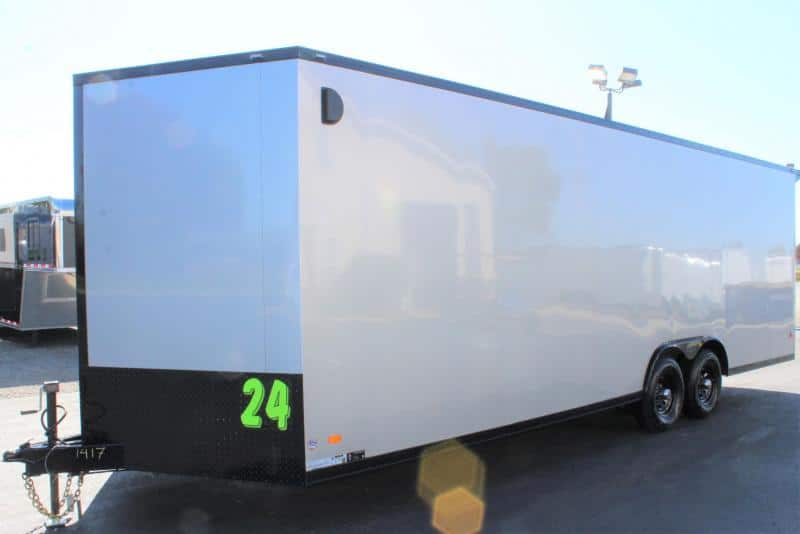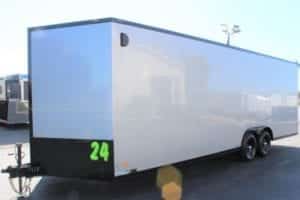 Cargo Trailers to Haul Boxes
If you are looking for a cargo trailer to haul boxes, prepared to discuss the size, weight and quantity of boxes that you intend to haul. Your Millennium cargo trailer specialist will be prepared to calculate the correct size of your new cargo trailer based on the specifications you provide. The total volume of these enclosed trailers must also be calculated. If these enclosed cargo trailers are going to be used professional it is important to get a high quality, commercial grade trailer. Don't buy a trailer that will not meet your needs, call Millennium Trailers today.
Cargo Trailers to haul furniture and other bulk items
Millennium Trailers can assist you in buying a cargo trailer for sale that will have the correct options for your hauling needs. We will work with you to specify a tie down system as well as a trailer that will meet your weight and size specifications. E-Track is the correct type of tie down system for these circumstances but the quantity can also be very important. How man strips on the floor and walls are critical to get the proper configuration to haul these type of loads.
Enclosed Cargo Trailers Available Hitch Types
The three most common hitch types for these types of enclosed trailers for sale are bumper pull, gooseneck and fifth-wheel. Bumper pull is the most common on the enclosed cargo type of trailer. There are two hitch sizes for bumper pull. 2″ and 2 5/16″. The size is dependent on the number of axles and size of the trailer. Be sure to use a 2 5/16″ is required because using the wrong size hitch may cause disaster. A gooseneck hitch is a 2 5/16″ ball located in the bed of a pickup truck. A fifth-wheel is a plate system like one used for a large tractor trailer.
Final Considerations.
Contact us for your custom trailers, you will be very happy with our trailers for sale and service. Seldom is the lowest price the best value.
Gooseneck Enclosed Cargo Trailers