Stacker Race Trailers for Sale
At Millennium, we offer many different ways to start designing and building trailers, please contact us using any of the following options:
Click here to DESIGN YOUR OWN TRAILER. Design your dream trailer. You will be able to select sizes, colors, options, and more. This is a great way to start the custom trailer design and build process.
Call us at 1-800-978-7223 and speak with an enclosed trailer specialist.
Click here to send an e-mail to info@milltrailers.com, give us a detailed e-mail about the types of features you are needing in your new custom trailer.
Click here to complete our ONLINE CONTACT FORM
Complete a no-obligation finance application by clicking here FINANCE APPLICATION. If you will need financing for your custom trailer, this is a great way to start the process. We will contact you before processing your application.
General Stacker Trailers at Millennium Trailers
Stacker trailers are haulers of multiple vehicles. A trailer that allows loading cars on a lower and upper deck. These trailers include a lift in the trailer which raises cars to the upper level. Stacker trailers come in both gooseneck and bumper pull models. Bumper pull models generally allow for 2 cars, while the gooseneck models can hold as many as 3 cars. Most stacker trailers come with tie down systems, finished interior and cabinets. To pull stacker trailers requires large motor homes, semi-truck, Ford F-650s or Chevy 6500. These trailers are an ideal product for transporting multiple cars in an enclosed trailer. We offer custom stacker trailers that are built to order.
Millennium Trailers offers multiple brands to service our client's needs. We offer goose neck, fifth wheel and bumper pull stacker trailers. All are enclosed stacker trailers.
You can also browse our stacker trailers for sale. We offer for sale aluminum stacker trailers like an ATC or Intech stacker trailer.
.
Common Options for Stacker Trailers
Most options that are in a normal trailer are also available in stacker trailers. Generally, these trailers have triple torsion axles. Torsion axles provide better performance. For cosmetic purposes you may choose an exterior without fasteners. A power assist tongue jack, either an electric or hydraulic jack. The reason for this is simple, your stacker trailer (even more so when loaded) is very heavy and turning a normal jack would be very difficult.
Other options that are common are generators, 110v electrical packages, cabinets, ramp extensions to load vehicles with low clearance and electric winches. There are hundreds of options and the best way to get the combinations of stacker trailers is to speak with a Millennium Trailer's design specialist.
Lift Options
To get a car on to the upper level of the trailer requires an electric & hydraulic lifting.  The two main systems are to put a car lift like the one found in a garage and the other is a lift gate for stacker trailers.
Internal Lift
The most common lift type in stacker trailers is a Stinger lift.  Stinger lifts come in 6 sizes: 10 feet, 13 feet, 14 feet, 16 feet, 18 feet, 24 feet.  Lift are powder coated and designed for cars and heavy use.  The lift is available with 6,000# capacity or #4,000 capacity.  A 12V systems drives the lift vertically. When fully raised the lift allows for 80″ clearance and has Drings to a tie down a car.  The lift is a great and economical way lift cars up and stack them in a trailer.
Here are examples of stinger lift: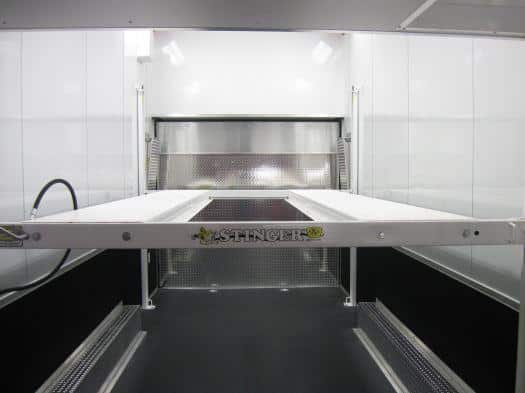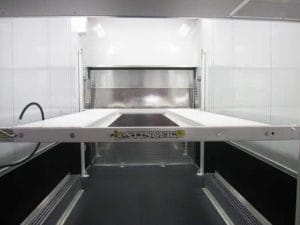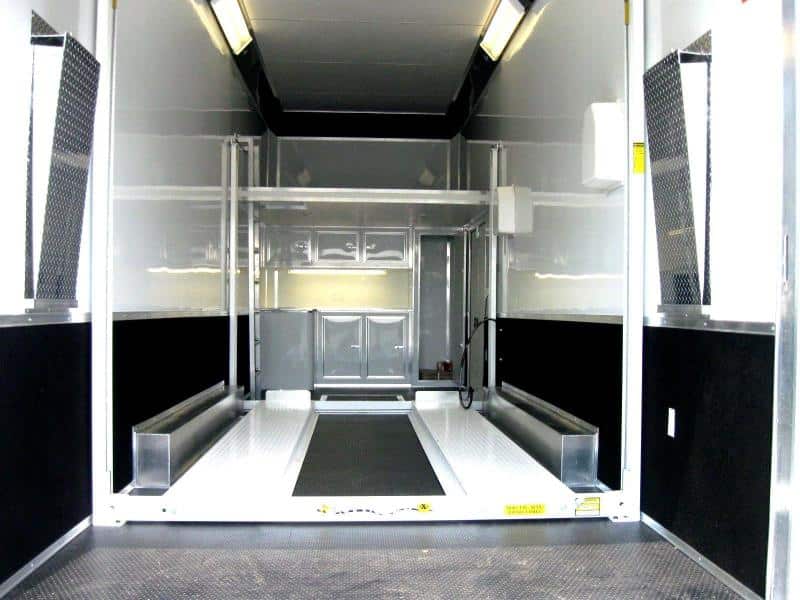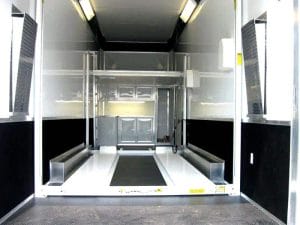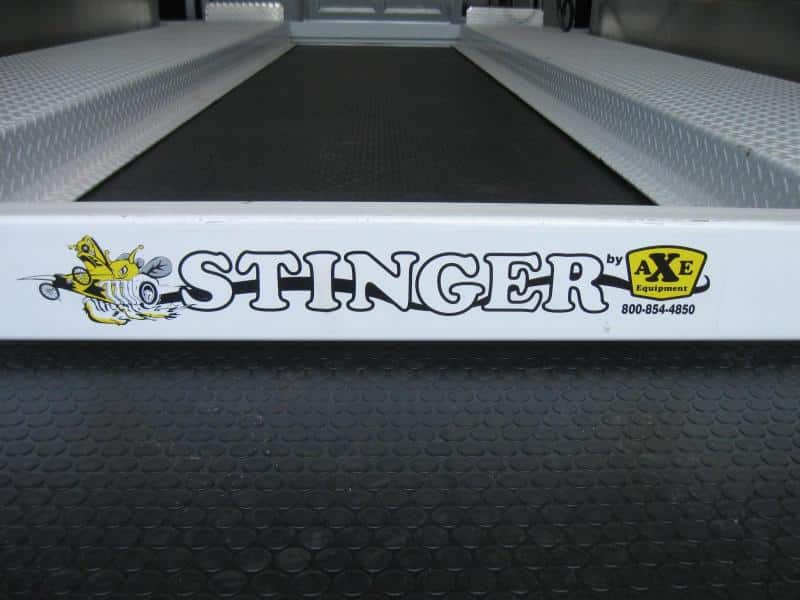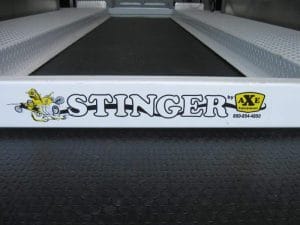 Lift Gates
Lift gates are mechanical devices that lay flat on the ground, allowing the user drive the car on to the lift.  The lift raises and the car is either driven or winched on to the upper or lower deck.  The lift gate generally weighs less and is more desirable than a lift inside the trailer.  Choosing the best lift for you can change the functionality and usability.  Give this area serious consideration.
Bard Unit Air Conditioning
Due to the added height of a stacker trailer, roof mounted air conditioners are not feasible because this added height could make the trailer unable to clear bridge underpasses. A BARD A/C is the type of air conditioner needed for a stacker trailer. Bard manufactures these A/C units.  The units can but out a tremendous amount of cold air, but also require a significant amount of power. A Bard unit can easily consume over 7kw of generator power, so if you are running a unit like this requires a 12kw-20kw generator.  For specific information please contact Millennium Trailers and we can provide expert advice.
Stacker Trailer Images
Below are three images of stack trailers.  Each image offers a unique look at difference aspects and types of stacker trailers
4 Car Gooseneck Stacker Trailer
This image shows a gooseneck stacker trailer.  Gooseneck stacker trailers can, in some cases, hold up to 5 cars.  It is also feasible to put a lounge or bathroom in the gooseneck stacker.  We offer a maximum total weight of a gooseneck stacker trailer cannot exceed 25,999.  Normally we do not stock gooseneck stack trailers because most of these trailers are custom built to fit the specific application of the user.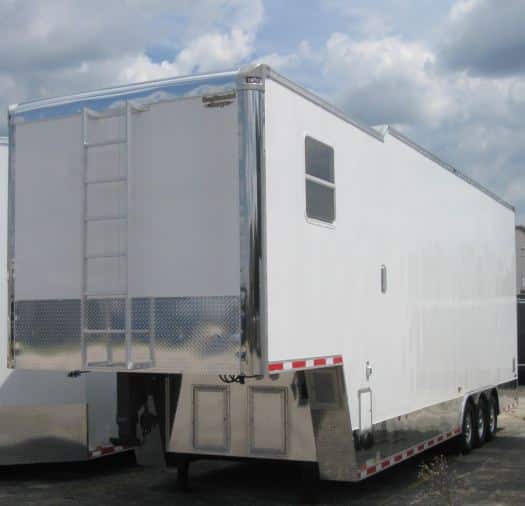 Inside a Stacker Trailer
This image shows the inside of a bumper pull stacker trailer.  It shows the lift, the cabinet package, a tool box, and stairs leading to the upper deck.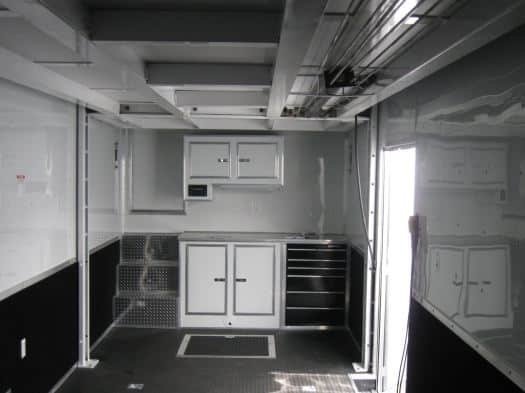 Bumper Pull Stacker Trailer
Stacker trailers
normally have an extended tongue, an electric jack and a battery mounted on the front if it is a bumper pull.  Normally bumper pull stacker trailers will utilize longer tongues because the air towed by diesel motorhomes.  Not all diesel motorhomes can pull a stacker trailer and you should contact the motorhome dealer or manufacturer to ensure your tow rig is safe.
Stacker Trailers with Living Quarters
If you are looking for a full living quarters or just a nice lounge with a bathroom, we can custom design a stacker trailer that will work for you. With several floor plans available for full living quarters, you can choose from a layout with a sofa or dinette or both. Bunk beds are also available if you are trying to sleep a large crew. If you need storage like in cargo trailers consider using an upper deck.